NEW

21,95 9,95

-30% Sale

9,95 6,95

-45% Sale

18,95 10,50

-53% Sale

18,70 8,75

-56% Sale

15,95 6,95

NEW

15,95 8,50

-25% Sale

9,95 7,50

-47% Sale

29,90 15,95

-53% Sale

33,85 15,95

NEW

18,50

-50% Sale

13,90 6,95

-44% Sale

13,90 7,75

Kostenloser

versand ab 40 €

14 Tage

Rückgaberecht
Schnelle Lieferung

1-2 Tage

NEW

16,95 7,95

NEW

27,25

-47% Sale

15,95 8,50

NEW

16,95 7,95

-39% Sale

39,41 23,95

NEW

45,75 40,-

-46% Sale

44,11 23,95

-47% Sale

15,90 8,50

NEW

17,95 7,95

NEW

18,95 7,95

NEW

13,95 6,95

NEW

16,95 8,50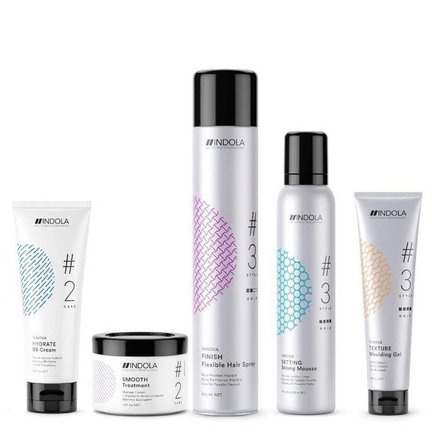 Indola ist eine internationale und exklusive Friseurmarke. Sie sind innovativ und vermarkten gerne inspirierende und individuelle Haarpflege- und Stylingprodukte, die selbst entwickelt wurden. Die verschiedenen Linien unterstützen die verschiedenen Prozesse beim Färben, Pflegen und Stylen der Haare auf intelligente Weise. Das schöne Motto von Indola lautet daher: "Denk schlau, denk Indola"!
Indola ist sehr stolz auf seine schönen Produkte und sie wissen, dass sie jeden mit Selbstvertrauen zum Leuchten bringen kann!
Was sind Indolas Bestseller?
Indola ist bekannt für seine Indola Color Style Mousse . Dieses fantastische Color Style Mousse ist der ideale Farbschaum, der Ihre farbigen Locken auffrischt. Als ob sich Ihre Haare im Salon gerade gedreht hätten! Natürlich hat Indola mehrere erfolgreiche Produkte, wie könnte es anders sein mit so fantastischer Qualität zu einem so niedrigen Preis. Der Indola Fibre Gum ist ein brillantes Produkt, das wirklich hält, was es verspricht.
Ist Indola Grausamkeit frei?
Indola ist frei von Grausamkeiten, dh Indola-Produkte werden nicht an Tieren getestet. Um die Sicherheit der Inhaltsstoffe zu gewährleisten, werden die Daten der Rohstofflieferanten oder die verfügbaren Literaturdaten verwendet. Nach Möglichkeit werden Tiefenprüfungsalternativen verwendet, um die Sicherheit der für Indola verwendeten Inhaltsstoffe zu bestimmen.
Aus wem besteht das Indola-Team?
Das Indola-Team besteht derzeit aus nicht weniger als fünf Personen. Sie haben die Friseure und die Street Style Spotters. Wir beginnen natürlich mit den Friseuren, sie sind Chanel und Andy. Chanel ist der Kolorist und Andy ist der Stylist. Chanel ist ein berühmtes Gesicht auf dieser Welt. Von internationalen Prominenten über Stilikonen bis hin zu Louis Vuitton hat sie alles getan. Andy hat ein komplettes Team um ihn herum zusammengestellt. Seine Kreationen sind beispiellos und es ist nicht ohne Grund, dass er unter anderem regelmäßig in Voque zu finden ist und bei verschiedenen Modewochen ein gern gesehener Gast ist.
Die Street Style Spotters sind drei Damen, Jessie, Christian und Anna. Vielleicht kennen Sie Jessie Bush von der Online-Mode- und Lifestyle-Destination We The People . Christian ist auch ein bekannter Fotograf, vielleicht kommt Ihnen der Name The Styleograph bekannter vor. Und dann haben wir die Street Style Bloggerin Anna.
Ist Indola-Sulfat und Paraben frei?
Indolas Haarprodukte enthalten Sulfate und / oder Parabene. Wenn dies nicht für ein Produkt gilt, wird dies mit dem einzelnen Produkt in der Beschreibung angegeben.
Ist Indola für meine Haare geeignet?
Um festzustellen, ob Indien für Ihre Schlösser geeignet ist, ist es wichtig zu prüfen, ob Sie nach einem Shampoo + Conditioner-Set suchen oder ob Sie Indola auch als Style-Produkt verwenden möchten. Wenn Sie nach einem guten Shampoo suchen, beachten Sie bitte Folgendes:
Indola Innova Color Shampoo - für gefärbtes Haar
Indola Innova Hydrate Shampoo - für trockenes Haar
Indola Innova Repair Shampoo - für strapaziertes Haar
Indola Innova Root Activating Shampoo - zum Ausdünnen der Haare
Indola Innova Cleansing Shampoo - für Haare, die viele Produktreste enthalten
Indola Innova Silver Shampoo - für graues und blondes Haar
Wenn Sie sich für ein Style-Produkt entscheiden möchten, schauen Sie sich genau an, was Sie wollen, Ihre Wünsche und Ihren Haartyp.
Bei Indola haben sie Style in drei Kategorien unterteilt. Textur. Fertig. Rahmen.
Unter Indola Style Texture finden Sie folgende Produkte:
Indola Innova Texture Salt Spray ist ideal, wenn Sie nach einem Spray suchen, das schöne, weiche Wellen und eine unordentliche Textur bietet. Als würden Sie mit Ihrem Regenschirm in der einen und einem halben Glas Wein in der anderen Hand vom Strand hüpfen. Das Indola Innova Texture Volumizing Powder ist ideal, wenn Sie möchten, dass Ihre Locken ein Mega-Volumen erhalten und sich an den Haarwurzeln heben. Das Indola Innova Texture Wax hat einen leichten Halt und verleiht Ihren Schlössern einen natürlichen Glanz. Wenn Sie nach einer Wachscreme suchen, die einen extrem matten Glanz verleiht und Ihre Locken den ganzen Tag in einer Linie hält, dann erhalten Sie die Indola Innova Texture Rough Up . Suchen Sie ein gutes Trockenshampoo, das Ihnen nicht nur eine Erfrischung verleiht, sondern Ihren Schlössern auch Volumen und Halt verleiht? Dann sind Sie mit dem Indola Innova Texture Style Reviver genau richtig . Das neueste Produkt in der Kategorie Indola Style Texture ist das Indola Innova Texture Moulding Gel . Dieses Gel von Indola ist ein Gel mit extremem Halt, das dafür sorgt, dass Ihr Look den ganzen Tag anhält.
Unter Indola Style Finish finden Sie folgende Produkte:
In der Kategorie Indola Style Finish ist auch für jeden etwas dabei. Wenn Sie Ihrem Haar mit einem subtilen Glanz den letzten Schliff verleihen möchten, sind Sie mit dem Indola Innova Finish Strong Lacquer genau richtig . Das flexible Haarspray Indola Innova Finish macht dasselbe, aber der Halt ist etwas leichter. Dies hält die Widerstandsfähigkeit Ihrer Schlösser und fällt trotz der Tatsache, dass sie in Form gehalten werden, weiterhin auf natürliche Weise ab. Das Indola Innova Finish Gel Spray ist ein Gel mit starkem Halt, damit Ihre Schlösser lange in Form bleiben. Das Schöne an diesem Gel ist, dass es ein Gelspray ist, sodass Sie besser dosieren können.
Unter Indola Style Setting finden Sie folgende Produkte:
Das Indola Innova Style Strong Mousse ist eine Haarmousse , die eine feste, lang anhaltende Kräftigung bietet. Das Fantastische an diesem starken Mousse sind die Vitamine im Indola Innova Styling Setting Strong Mousse. Diese sind feuchtigkeitsspendend und stärken Ihr Haar, so dass eine Win-Win-Situation entsteht. Sind Sie ein begeisterter Benutzer des Haartrockners? Dann empfiehlt unser Team das Indola Innova Föhnspray . Das Spray schützt Ihr Haar nicht nur vor Hitze, sondern sorgt auch dafür, dass die Föhnzeit erheblich kürzer ist. Auf diese Weise wird auch Ihr Haar geschützt. Der Indola Innova Setting Thermal Protector eignet sich, wenn Sie ein begeisterter Benutzer des Haarglätters oder auch des Haartrockners sind, aber Ihre Schlösser stylen möchten. Dieser Wärmeschutz befeuchtet auch Ihr Haar, sodass keine trockenen Strähnen mehr vorhanden sind. Wenn Sie schöne Locken haben, erhalten Sie die Indola Innova Setting Curl Cream . Begrüßen Sie wunderschöne, hydratisierte Locken.